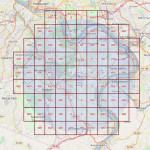 The Borough of West Mifflin, and the West Mifflin Borough Police Department take public safety, and the safety of the National Air Space very seriously and work very closely with the Allegheny County Airport Authority and the Federal Aviation Administration to promote safety both on the ground and in the air.
Due to the proximity of the borough to the Allegheny County Airport and the constant, heavy air traffic in the area, unapproved use of Unmanned Aircraft Systems (drones) – recreational, and commercial – within the borough borders is prohibited absent explicitly FAA approval.
read more
The West Mifflin Borough Police Department – serving and protecting West Mifflin Borough, a heavily residential area, West Mifflin is home to one of America's oldest traditional amusement parks, Kennywood Park; the fourth largest shopping mall in the region, Century III; advanced naval nuclear propulsion technology research and development facility, Bettis Atomic Power Laboratory; monorail manufacturer Bombardier; US Steel's Mon Valley Works – Irvin Plant; Community College of Allegheny County's South Campus; the Allegheny County Airport; and various other businesses and industries.